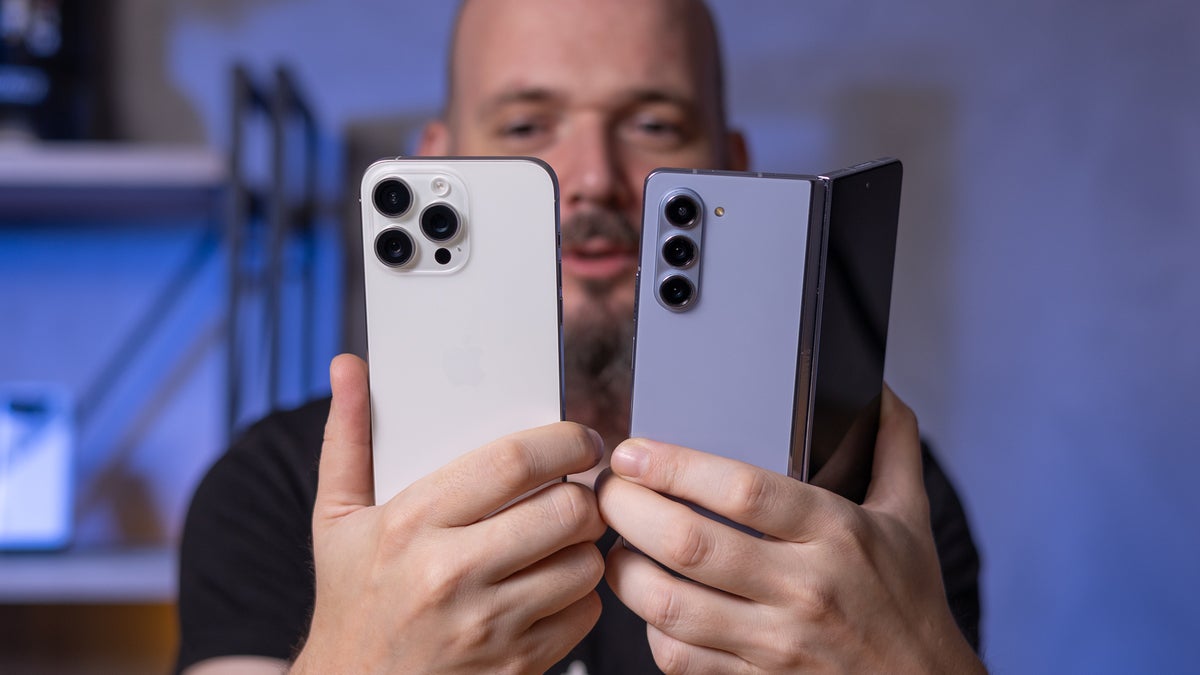 Intro
It's mid-2023 already, but Apple still doesn't have a foldable. Meanwhile, Samsung is about to release its fifth-gen foldable on the market. An Apple a day keeps the foldables at bay, crazy! 
That said, the iPhone 15 Pro Max is definitely be one of the top phones expected in 2023, one that will once again be the yardstick that the competition will measure up against, but there's another highly anticipated summer release that's equally as interesting––the Galaxy Z Fold 5. Samsung's foldable flagship phone is coming in late July/early August and will try to seduce us with its fancy foldable display.
Which one is shaping up to be the more intriguing phone here, the classic iPhone that will give us the most advanced hardware and software experience in the Apple camp, or Samsung's foldable catwalk star? Surely, comparing these two unreleased phones is like trying to compare apples and oranges, but after all, why shouldn't go ahead and establish a preliminary comparison between the two anticipated summer releases?
That's exactly what we're going to do in this preliminary review!iPhone 15 Pro Max vs Galaxy Z Fold 5 expected differences:
Standard (iPhone 15 Pro Max) versus foldable form factor (Galaxy Z Fold 5)
Larger 7.6-inch display (Galaxy Z Fold 5)
3nm Apple A7 Bionic chipset (iPhone 15 Pro Max) vs 4nm Snapdragon 8 Gen 2 (Galaxy Z Fold 5)
48MP main (iPhone 15 Pro Max) vs 50MP main camera (Galaxy Z Fold 5) 
Stylus support, possibly integrated (Galaxy Z Fold 5)
Higher price (Galaxy Z Fold 5)
Table of Contents:
Design and Size
Apple's best iPhone versus Samsung ambitious foldable
The iPhone 15 Pro Max will have some serious changes in the design department, possibly giving us a titanium frame that will be both lighter and sturdier than the current stainless steel iterations. Additionally, Apple is widely believed to be waging a total war on display bezels. The iPhone 15 Pro Max will likely come with the slimmest bezels among all phones so far, measuring just 1.55mm in width, beating current record-holder Xiaomi 13's 1.81mm bezels by a fair margin. The Dynamic Island punch-hole is staying, though. 
Another major change in terms of design will be the removal of the signature mute switch with an Action Button similar to the one on the Apple Watch Ultra. While it might not come in orange color, it will reportedly allow iPhone 15 Pro Max users to personalize that button and map it to different functions, focus switching, and probably even automation shortcuts.
There's also finally USB Type-C coming to the iPhone 15 Pro Max, which will be substituting the proprietary Lightning port. If rumors are to be believed, the iPhone 15 Pro Max might offer the ultimate experience by supporting the fastest data throughput speeds. 
Size-wise, we expect the iPhone 14 Pro Max to be marginally shorter and narrower, but thicker than its predecessor, though screen size will remain fixed at 6.7 inches of glory, rumors say. Your old cases wouldn't fit, though. 
| | iPhone 15 Pro Max | iPhone 14 Pro Max | Difference |
| --- | --- | --- | --- |
| Height | 159.86 mm | 160.7 mm | -0.84 mm |
| Width | 76.73 mm | 77.6 mm | -0.87 mm |
| Depth | 8.25 mm | 7.85 mm | +0.4 mm |
What about the Galaxy Z Fold 5? Surprisingly, we seem to know very little about the design of the upcoming foldable trooper. Rumors claim that it could feature a gap-less design, similar to most Chinese foldables out there. Chances are the Fold 5 will look quite similar to its predecessor, with a 6.2-inch external and nearly square 7.6-inch inner AMOLED display, hopefully with a less pronounced crease than before. 
Although we've heard that the Galaxy Z Fold 5 might be thinner than the Z Fold 4 (which was already a fatty at 15.88 thickness when folded), we've also heard that the foldable might come with an integrated S Pen inside and actually be even thicker than before. So, it's still uncertain as to what the Z Fold 5 might look like. 
Water resistance is nothing new on foldables, but the Z Fold 5 is rumored to be scoring particle resistance as well. 
In terms of colors, we can only speculate what Apple and Samsung are cooking for us. Supposedly, we might see the iPhone 15 Pro Max in the now classic Space Gray, Silver, and Gold, as well as a classy new deep red color that might or might not be called 'Burgundy'. The Galaxy Z Fold 5 will possibly come in Black, Beige, and Light Blue. Knowing Samsung, a couple of extra colors might be exclusively available for those that purchase the phone from Samsung.com. 
Display Differences
Apple isn't actively rumored to be changing the winning formula about the iPhone Pro Max display. This means we are most certainly getting the good ol' 6.7-inch Super Retina XDR OLED display with HDR support and 120Hz ProMotion that makes everything look oh-so-smooth and rewarding. One area where we can possibly see some improvement is maximum display brightness, a recurring hardware improvement on most previous phones of the lineup. 
The Fold 5's displays aren't getting changed as well. The external OLED screen will remain at 6.2 inches and will most certainly retain its excellent color rendition, as well as its smooth 120Hz refresh rate. The same applies to the larger-than-life internal displays, which will most likely have a square-ish aspect ratio of 21.6:18 and be in the vicinity of 7.6 inches, as well as being as good as we've come to expect of a Samsung OLED panel. This one will also have a smooth 120Hz refresh rate as well. 
One big 'unknown' aspect of the Z Fold 5 is the situation with its fingerprint scanner. The Z Fold 4 didn't feature an in-screen sensor and instead relied on a fingerprint scanner embedded in the side-positioned power button. Some rumors claim that we might see an in-display fingerprint with the Z Fold 5, unclear on which of the two displays though. There will certainly be 2D face unlock, which isn't that secure but more convenient. 
Meanwhile, the iPhone 15 Pro Max will certainly rely on a sole biometric unlocking method––Face ID. 
Performance and Software
Checkmate with the 3nm chip!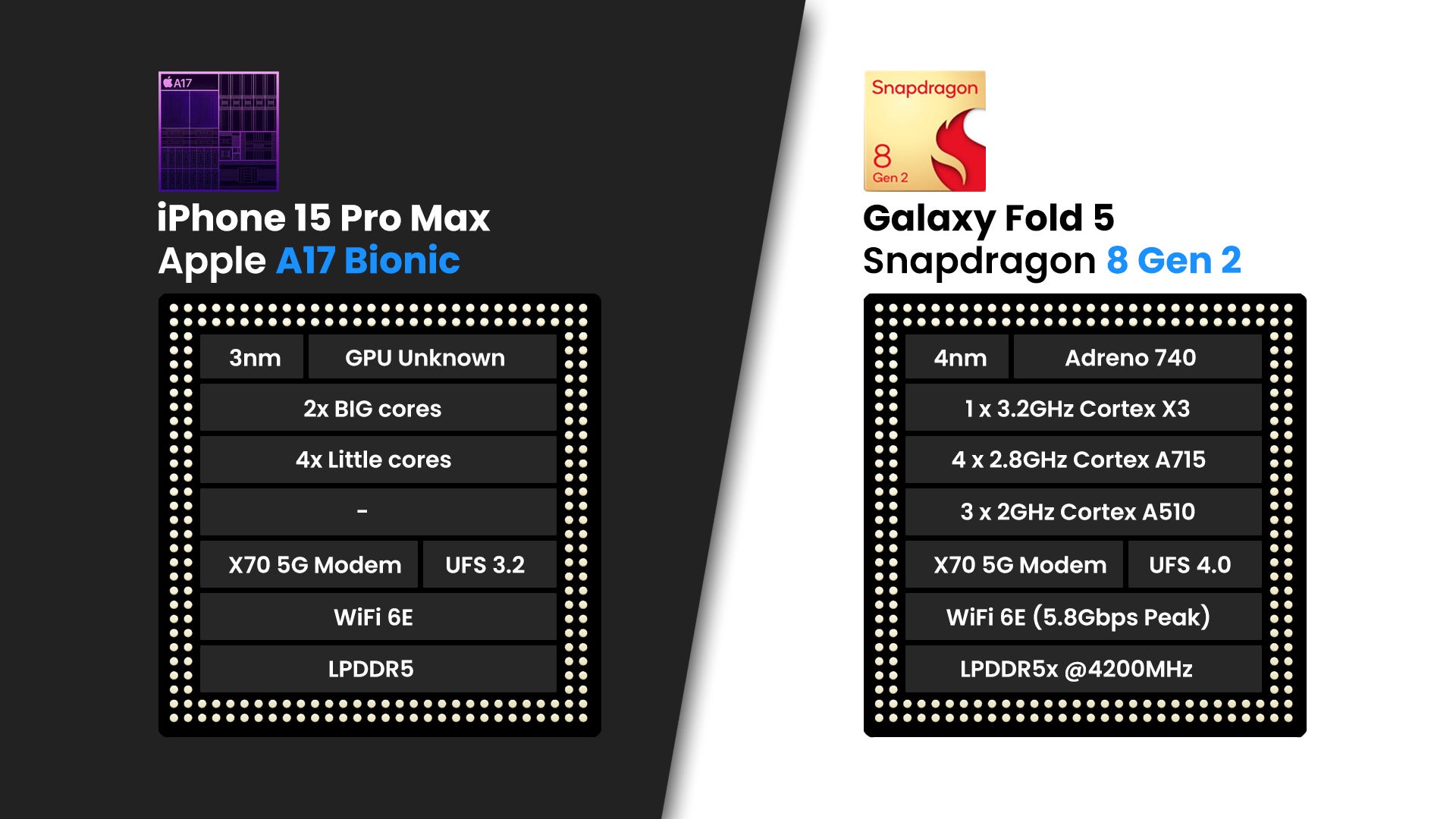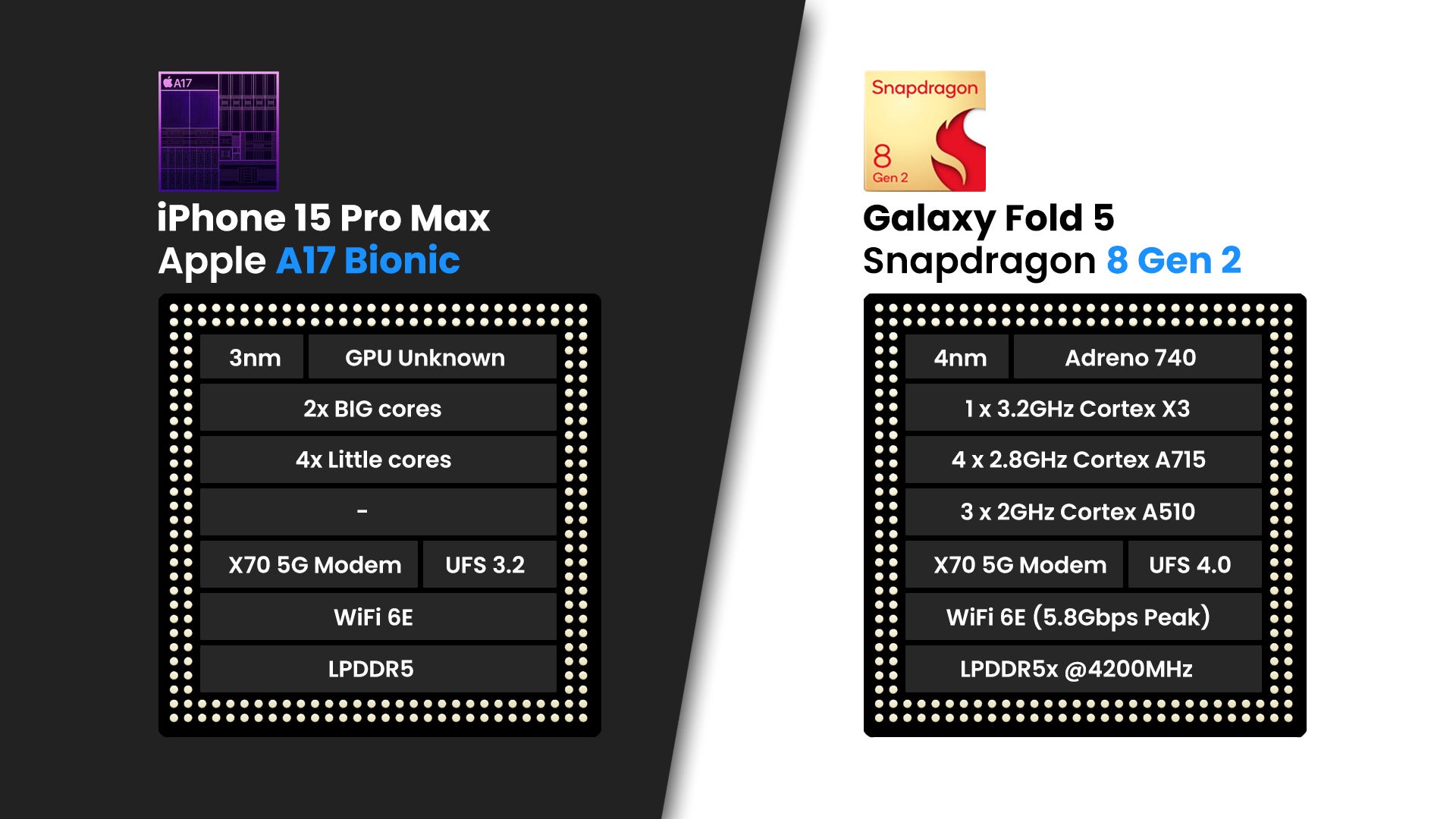 The iPhone 15 Pro Max will most likely come with a 3nm chipset, the Apple A17 Bionic, which should offer vastly improved performance and efficiency in comparison with Apple's most recent A16 Bionic chip, as well as everything the competition will be able to field in late 2023. The move down to the super-dense 3nm manufacturing process will allow Apple to stuff a couple billion extra transistors on board its next silicon. Aside from being faster, the chip could help propel the phone to new heights as far as battery life goes (here's to hoping!).
The Galaxy Z Fold 5 will have no other option but the Qualcomm Snapdragon 8 Gen 2 chip, which is honestly a superb chip with extremely good productivity, bringing excellent performance to Android flagships while also being quite efficient as well. While we do expect the next version of this chip to be unveiled in December 2023, quite possibly with a 3nm manufacturing process, the Z Fold 5 will simply have to resort to the current best thing available. 
Rumors peg the amount of RAM inside the iPhone 15 Pro Max to 8GB, an important increase over the 6GB available on the iPhone 14 Pro Max, which would definitely improve the overall functionality and multi-tasking abilities of the big iPhone. The Z Fold 5 will likely come with 12GB of LPDDR5 RAM, similarly to its predecessor, but we've got no clue if this will be the case just yet. 
In terms of storage, we expect the iPhone 15 Pro Max to be available with 128, 256, 512GB, and 1TB of storage. Meanwhile, the Z Fold 5 could potentially come with 256GB, 512GB, and 1TB of available storage, with no option to extend that via a microSD card. 
The more important differences, however, will be in the software department, where will be getting the latest and greatest iterations of iOS and Android. The iPhone 15 Pro Max will come with iOS 17 out of the box, while the Z Fold 5 will most certainly arrive with Android 13 with the latest One UI skin on top. Both phones should receive long software support: the iPhone 15 Pro Max to at least 2028, while the Z Fold 5 should receive four major Android software updates and be supported until 2028 as well.
That said, the Android-powered foldable phone has way more going for it to be a proper productivity tool. Aside from the large internal display, which is perfectly suited for multitasking, Samsung will most likely grace the foldable with a trove of software features and functionalities to improve its utility. With the Z Fold 4 we got a desktop-like app dock, and we already have DeX support on Samsung foldables, which lets you hook it up to an external display and periphery and use it as a portable mini PC of sorts. 
Camera
Big strides for Apple
The iPhone 15 Pro Max will be most likely scoring a larger new 48MP sensor for its main camera, which should further improve the overall imaging prowess of Apple's next big thing. However, the theme of the iPhone 15 Pro Max will undoubtedly be its brand-new periscope lens, which is expected to be in the 5X-6X optical zoom range and deliver even longer hybrid zoom.
At the same time, the Galaxy Z Fold line was never about photography prowess, as the focus was always elsewhere. Sure, all previous foldable Samsung phones have had more than decent cameras, but nothing as exciting as, say, the Galaxy S23 Ultra or the Galaxy S22 Ultra with their super-capable main cameras and long zooming capabilities. We expect the Galaxy Z Fold 5 to stick to that 'tradition' and have a mostly versatile camera system that doesn't shine with any particular feature. 
In essence, with the Galaxy Z Fold 5, we might get the same 50MP wide, 12MP ultra-wide, and 12MP telephoto lineup as before, with a 10MP outside selfie camera and an under-display internal selfie camera, possibly a 4MP unit. 
Not many changes are expected for the ultra-wide and front-facing cameras of the iPhone 15 Pro Max either. Apple's next best iPhone will likely retain the cameras found on the iPhone 14 Pro Max. 
Audio Quality and Haptics
We expect that both the iPhone 15 Pro Max and Galaxy Z Fold 5 will retain their dual-stereo speaker systems, with a loudspeaker at the bottom and a slightly weaker speaker at the top that doubles as an earpiece. 
As far as haptics, we expect that… both phones will have vibrator motors on board! Lame jokes aside, we expect excellent and pleasing haptic feedback on both flagship phones. 
Battery Life and Charging
Woe to the vanquished
The iPhone 15 Pro Max will likely come with a battery in the 4,200-4,300mAh territory, slightly worse than the iPhone 14 Pro Max, but could actually end up having much better battery life. How is such a thing even possible? Well, it all stems to the potential and hopefully real power savings that the 3nm Apple A17 Bionic chipset will deliver this fall. Thanks to those, the next iPhone could establish itself as one of the phones with the best battery life in 2023. 
What about the Z Fold 5? We expect to see a battery in the vicinity of 4,400mAh, which should deliver decent battery life. The Snapdragon 8 Gen 2 is efficient, but that internal display isn't, so if you're using it a lot, your battery would most certainly go down faster. In any case, we'd expect at least a full day of moderate to heavy usage while mostly using the Z Fold 5's inner screen.
On the topic of charging, neither Apple nor Samsung are in an arms race, so we expect no improvements in the general charging speeds. This means 27W wired for the iPhone 15 Pro Max, and 25W wired for the Galaxy Z Fold 5. MagSafe and Fast Wireless Charging 2.0, both capped at 15W, will be on the iPhone and the Galaxy, respectively. 
Specs Comparison
iPhone 15 Pro Max
Galaxy Z Fold 5
Size, weight
159.86 x 76.73 x 8.25mm
Screen
6.7″ OLED
120Hz ProMotion
External: 6.2″ OLED 120Hz
Internal: 7.6″ OLED 120Hz
Processor
A17 Bionic
3nm
Qualcomm Snapdragon 8 Gen 2
4nm
RAM, Storage
8/128GB
8/256GB
8/512GB
8/1TB

LPDDR5

12/256GB
12/512GB
12/1TB

LPDDR5X

Cameras
48MP main
12MP ultra
12MP 5X-6X zoom

12MP front

50MP main
12MP ultra
12MP telephoto

10MP external front
4MP internal under-display camera

Battery
4,200-4,300mAh
4,400 mAh*
Charging
USB-C
27W wired
MagSafe
USB-C
25W wired
Fast Wireless Charging 2.0
Summary and Final Verdict
So, albeit quite different from one another, both the iPhone 15 Pro Max and the Galaxy Z Fold 5 will probably be vying for your consumer attention, provided that you're on the market for a super-premium phone this fall. 
Apple is highly rumored to be raising prices by $100 across the board; then again it has been rumored to be raising prices for the past few years without doing so. Meanwhile, the Galaxy Z Fold 5 would most certainly be the more expensive device, possibly starting in the $1,800 price range, much like its predecessor. 
At the end of the day, which one should you be shortlisting. It's very hard to be speculating at this point. Not only are we talking about yet unreleased devices, but we are also comparing two phones existing in the polar-opposite ecosystems. You are more likely to want to stick around in your ecosystem. Provided that you're willing to switch things up, however, there will hardly be more exciting phones available this fall.